"It is definitely better just to feel nothing at all, rather than to only feel nothing but anger and sadness." - Autumn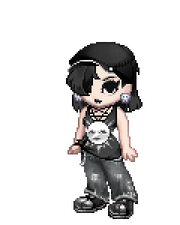 Autumn Zephyra 
is a fanfictional character created by
The Cherrybomber
.
Autumn is the sketchy Romanian cousin of Aspen Nilssen, known for being probably the most intimidating and one of the toughest girls at Bullworth Academy.
Appearance
Autumn stands at a tall 5'8, with a slim but powerful build with rangy arms and long legs. She has short black hair with nearly black eyes. When it comes to getting dressed, She is usually disregarding Bullworth's dress code, preferring to dress in ripped black jeans, goth boots and a small beanie mainly due to the fact that she refuses to conform to societal norms. In the winter, she puts on a heavier black jacket with newer worn in black jeans and the same goth boots. One thing many people tend to notice about Autumn is how her face looks frozen, almost like a vampire, as well as how bug-eyed she is.
Despite having a generally rough and tough look to her, there are still people who look to her as being still somewhat pretty, despite most people tend to say she looks like a bird or an alien. She wouldn't be a prep or a jock's first choice, and she'd probably intimidate most greasers and scare the living daylights out of a nerd.
((UNDER CONSTRUCTION))
Community content is available under
CC-BY-SA
unless otherwise noted.